Are you searching for the best gifts for Father's Day? We know hands-down that material gifts aren't the only way to say thank you, but then again, they sure are nice! Specially after everything he's done for you over the years.
16th June is approaching fast, so, to make shopping a bit easier for you, we've compiled a list of items we're in love with - and we bet he'll be too. Here's our collection of thoughtful gifts to any father figure.
Dad may say he's easy-going and wants absolutely nothing, but, when it comes to his own Father's Day present, you know it's got to be good. That's why new bed sheets, a duvet cover or a bedding set could actually be your strongest trump card!
Not sure yet? Well, while he may not be a home décor enthusiast, we believe luxury bed linen makes a perfect gift. Not only because it's used every night, but also for its premium quality.
Father's Day Gifts by Budget
Now, just make sure you won't break the budget. To help you get a few ideas, we've put together our own list full of Father's Day Gifts that should seriously match every style and budget - everything being tailored with Dad's taste in mind.
Gifts under €200
Cosiness never goes out of style! Starting at €17, you can find a classic, standard pillowcase in a Premium, minimal and versatile fabric, which is crafted in a soft 430 thread count Cotton Sateen.
On the other hand, if you think a ready-to-wear complete set is more of a suitable choice, discover our unique Home experience, because there's really no place like home (oh, and let's face it: easy maintenance is the way to go).
Now that warmer days are coming, why not selecting a gift with some cooling features for the summertime? These €45 Premium Percale Fitted Sheets are particularly cool to the touch. Because they're made with breathable cotton fibres, they're perfect for anyone who tends to sweat or to get hot at night. If you're looking for practicality, the Sateen Reversible Duvet Cover has a two-in-one style, from €145.
If your Dad is the type of person in need for some rest, it's time for him to relax with our Hotel experience. This complete set turns sleep into a hotel-like ambience. Premium Percale Fitted Sheets
Gifts over €800
Looking for an out of this world sensation? Our Heaven experience is a full set of cotton-silk, including a duvet cover, two sets of Oxford and Standard Pillowcases, one Flat sheet and one Fitted sheet. This collection is that one-of-a-kind gift your Dad will remember. When searching for that luxury feel, the Ultimate Cotton-silk Sheet Set, available from €410, may pretty much be the sort of splurge-worthy gift to surprise your Dad with.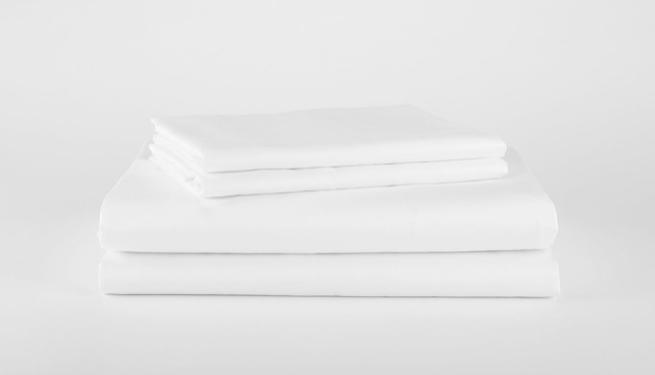 Ultimate Cotton-Silk Sheet Set
All in all, there's no doubt about it: the best Dad simply deserves the very best gift. For all he has helped you become, what could be better than offering comfort?